2020 FMA+ YouTube Interview
Watch the Fighting RoboVikings on their FMA+ YouTube Interview!
Click on the link below to see us on the FMA+ Youtube Channel:
http://www.youtube.com/c/midatlanticrobotics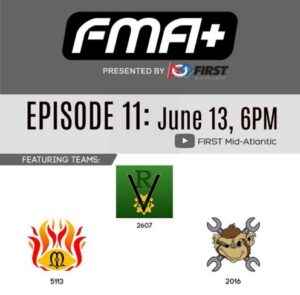 Members of 2607 have been working hard putting pictures, story board and enthusiasm together for the past two months.  They are getting ready to be interviewed by FMA+ organizers who will be asking the team members about this year's robot, game and the team as a whole. 
Our team's FMA+ group has been meeting virtually via Zoom once a week since the end of April 2020.  
Five 2607 student members and a mentor were interviewed on Tuesday May 26, 2020,via Zoom by the organizers of FMA+.  This prerecorded interview is going to be aired on Saturday June 13, 2020 at 6 PM.
The team invites the school community, friends, and family to be ready to watch our interview, and if possible ask questions about the team by posting them on the YouTube chat.