In addition to competitions,  team 2607 and adult mentors are involved in extensive community service including both charitable service and educational service.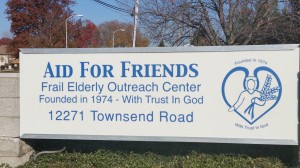 Each year the Fighting Robovikings has helped our community by reaching out to the isolated homebound. Members of Team 2607 prepare, assemble and pack home-made meals for Aid For Friends. Aid for Friends is the largest and most comprehensive meal delivery program in the five county Greater Philadelphia region.
For the last four years, the RoboVikings has hosted the First Lego League Tournament (FLL) here at Archbishop Wood High School, Warminster, PA.
The Fighting Robovikings collects non perishable food items when we host our yearly FIRST Lego League Robotic Qualifying Tournament at Archbishop Wood. The pantry feeds those who are going through rough times either due to death in the family, divorce, loss of a job or due to sudden illness.
Team 2607 gets together to pack Christmas boxes for the homeless at St. John's Hospice every year in December. Each box is filled with toiletries to help each of the men at the shelter.